Zimbabwe's largest arts event, the Harare International Festival of the Arts (Hifa), came to a controversial end last night when popular South African Afro-fusion band, Freshlyground, was prevented from performing its closing show. With the highest priced ticket – US$25 – of all the performances at this year's Hifa, the band was set to bring to an end the 15th edition of the festival, held under the theme 'Switch On'.
Fielding questions from Zimbabweans via Twitter late last night, the band stated that upon arrival at Harare International Airport yesterday, they were immediately ordered to leave the country with no explanation offered.
The only plausible reason for this, and their inability to gain accreditation to perform, is the 2010 release of their song Chicken To Change. The music video features President Robert Mugabe as a latex puppet in a re-enactment of his 1980 Independence speech. The video incorporates political characters derived from the satirical South African show, ZA News, including Jacob Zuma, Helen Zille, Zwelinzima Vavi, Desmond Tutu and Nelson Mandela. Towards the end of the video, Mugabe's caricature turns into a chicken, underscoring the song's message that the leader has lost his standing and respectability due to an inability to change with the times.
In the same year as the song's release, Freshlyground had their working visas to Zimbabwe revoked just before a scheduled performance in Harare. Before the release of Radio Africa, the album which features Chicken To Change, the band had previously played in Zimbabwe at the 2009 National Arts Merit Awards (NAMA) ceremony and at Hifa in 2004.
Mixed emotions have been expressed by Zimbabweans via social media about the cancellation with some feeling that state censors have acted irrationally to curtail freedom of artistic expression, while others feel that the festival organisers should not have publicised the band's appearance if accreditation for the performance was not guaranteed. Some feel that the group should not have expected entry into the country again after releasing their controversial 2010 song.
Not the only controversy at this year's festival, the play Lovers in Time came under intense scrutiny – from both the state and the public –  for its reworking of the historical narrative of the 1800s anti-colonial figures, Mbuya Nehanda and Sekuru Kaguvi, who are transported into contemporary post-colonial Zimbabwe wherein they switch sex and race and experience Zimbabwe in different bodies.  Its last showing yesterday was delayed by almost 30 minutes and featured police presence and audience protest.
Stand-up comedy
Amid the web of controversy, stand-up comedians seems to somehow have managed to get away with it at this year's festival.
Two of the comedy shows on offer, 75% (comprising three local comedians, Comrade Fatso, Michael Kudakwashe and Clive Chigubu) and Carl Joshua Ncube's one-man act held audiences in braces of laughter with jokes about the adventures and misadventures of Zimbabwean life.
Attracting a racially mixed audience at the Reps Theatre auditorium – a venue of historical privilege which is still patronised by a largely white audience in between Hifa performances – the performers showed a consciousness and ease about discussing race. In one of his skits, Kudakwashe joked that while the black people in the audience may have had reservations about coming to the show, they couldn't resist it when they heard it was comedy (as opposed to high art). Also, Comrade Fatso took to unpacking the different colloquialisms used among Zimbabweans – black, white, Indian and coloured – to show their concurrent hilarity and inaccessibility to those outside each racial grouping.
While it might seem risqué for a white performer in Comrade Fatso (real name Samm Monro) to make fun of race, he is of the long tradition of satire and political commentary in Zimbabwe. Starting out about a decade ago as a dreadlocked spoken word artist, his moniker is a deliberate play on the socialist tradition of comradeship among Zanu-PF's leadership, while Fatso is a common corruption of the Shona name, Farai, which Monro has adopted. Monro is also co-anchor of Zimbabwe's satirical comedic news show, Zambezi News, which provides commentary on politics and the state in Zimbabwe.
Nevertheless, it was Carl Joshua Ncube who raised the stakes higher in his one-man act. Everything came under humorous attack including the weakened MDC party, the state broadcaster's idolisation of Mugabe and tribal differences among Zimbabweans, which all elicited howling laughter.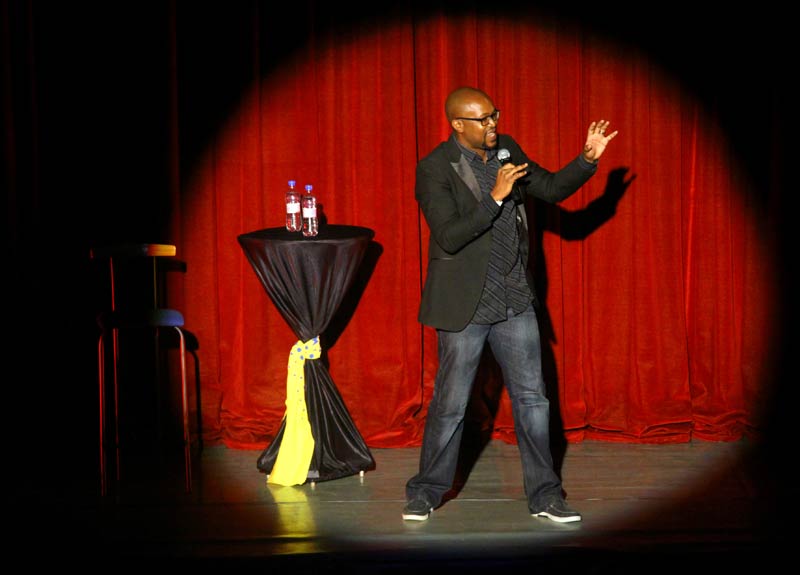 "Initially, political comedy had to be ambiguous because people always felt that if you made fun of Mugabe you were MDC, and if you made fun of Tsvangirai, you were Zanu-PF," he states.
Joking about religion
When Ncube turns his humour to religion, however, the contrast is striking. Stifled audience response is offered as he makes a sexual joke veiled as a prayer and when he references the popular Pentecostal prophet, Emmanuel Makandiwa, who has promised to walk on water.
"My biggest challenge right now is religious leaders," says Ncube adding that he has received death threats from church leaders and congregants of different churches and denominations he makes jokes about.
Ncube identifies as a Christian.
"Right now, I am deliberately holding back a lot of content because I need to get to a point where I am not seen as the anti-Christ," he adds.
Ncube, who has steadily become a household name in Zimbabwean comedy, sees increasing acceptance of his more political content as a natural progression of political discourse in Zimbabwe; something which is not apparent in religious discussions.
Zimbabwe-born Takunda Bimha, founding director of the South-Africa based comedy agency, Podium The Comedy Merchants, concurs.
"Compared to South Africa, it's been a lot more difficult to get a comedy industry going in Zimbabwe given the many issues the country is going through and the obvious sensitivities around politics and religion," he observes.
Bimha's agency has managed big South African names in comedy including Trevor Noah and currently boasts names like Kagiso Lediga and Loyiso Gola.
"Comedy comes from pain and a place where you need to say something," Bimha adds. "And given Zimbabwe's circumstance, this makes for great content."
While this year's local Hifa comedy performances have shown an increasing ease among Zimbabweans to laugh at themselves, they also underscore that with the return to one-party rule and the seeming demise of the MDC, religion is increasingly gaining purchase as the new and untouchable political paradigm in Zimbabwe.
At the same time, it is also clear that Zimbabwe's political history remains off limits to humorous representation and artistic re-interpretation.
Zimbabwe can laugh … just not at everything.
Fungai Machirori is a blogger, editor, poet and researcher. She runs Zimbabwe's first web-based platform for women, Her Zimbabwe, and is an advocate for using social media for consciousness-building among Zimbabweans. Connect with her on Twitter.