Stephen Keshi had just finished repelling yet another query about the Nigeria player bonus payment issue when he wiped his brow, leaned forward and posed a rhetorical question.
"Can I ask if you work with the CIA?" the Nigeria coach said, sparking muffled laughter all around.
When it comes to African teams at the World Cup, the focus on football has sometimes taken a back seat to other distractions in Brazil.
Strike threats. Pay disputes. Bomb blasts back home. Presidential interventions. That's on top of several unsavoury incidents on the field, with a Cameroon player head-butting his teammate and high-profile Ghana players getting suspended for physical and verbal attacks in training.
Yet somehow, through the turmoil, it has been the best World Cup for African teams in a way: for the first time, more than one of the continent's representatives advanced to the knockout stage.
And if Nigeria and Algeria win their round-of-16 matches on Monday, they would play each other to guarantee Africa's first semifinalist on football's biggest stage.
"I hope Nigeria and Algeria can continue to make Africa proud," Keshi said. "That would be a great World Cup."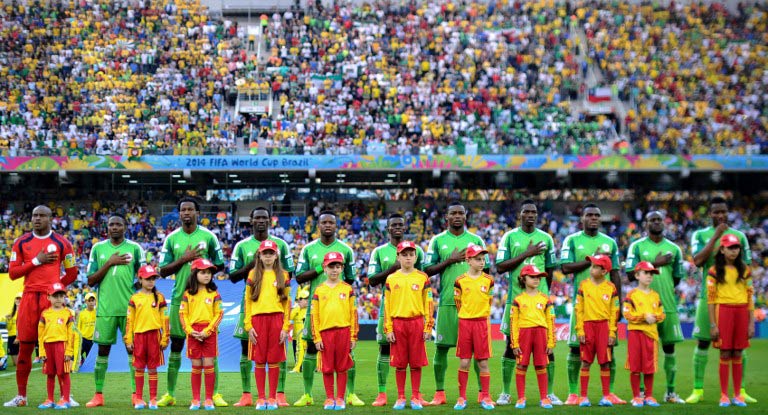 Many have reacted with a shrug to the off-pitch shenanigans that have blighted African teams' World Cup campaigns. Just ask France coach Didier Deschamps, who is preparing his team to take on Nigeria in Brasilia.
"For them, I don't think it is a very unusual situation," he said. "I'm not saying it is part of the culture, but it has happened before this World Cup."
Bonuses
Player disgruntlement over unpaid bonuses has followed the African teams around Brazil. Ghana's president had to fly reportedly millions in cash to Brazil to ensure the team didn't boycott a pivotal group game against Portugal.
Cameroon refused to travel to the tournament until a dispute over appearance fees was resolved. Most recently, Nigeria players' concerns over bonus payments contributed to a training session being cancelled on Thursday and the country's president, Goodluck Jonathan, having to intervene from long distance.
Hence the barrage of questions to Keshi on Sunday.
"There was not a major issue about the monetary aspect of it," Keshi said. "It was just something we wanted to highlight."
Nigeria is thriving on the pitch, despite tragedy back home. A day after its first group game, a bomb blast at a World Cup viewing site in Damaturu, northeast Nigeria, and killed 14 people. Last week, a bomb went off at a shopping mall in Abuja, the capital in central Nigeria, killing 24 people.
"It's been quite a tragedy, but we are here – we have a job to do," Nigeria midfielder John Obi Mikel said. "Things that happen back home, we shouldn't let it affect us. Football unites everyone back in Nigeria."
For Ghana, Cameroon and Côte d'Ivoire, the misery has been confined to the field of play.
The Ivorians were seen as Africa's top hope but they again failed on the big stage, tumbling out after conceding an injury-time penalty that was converted by Greece in their final Group C match. It was seen as the last chance for the so-called "golden generation" of Didier Drogba, the Toure brothers and Didier Zokora at the highest level. The failure led to coach Sabri Lamouchi stepping down.
"There will no renewal," Lamouchi said. "The reasons why are obvious."
Investigations
The presidents of Cameroon and Ghana have called for investigations following disappointing World Cup performances.
State media said Cameroon President Paul Biya has given his prime minister one month to submit a report on the Indomitable Lions' "inglorious campaign," with a statement from his office urging "a profound and deep restructuring of Cameroonian football."
Cameroon lost all three games, scored just one goal and was shamed when defender Benoit Assou-Ekotto thrust his head into the face of teammate Benjamin Moukandjo against Croatia.
Since reaching the quarterfinals in 1990, Cameroon has won just one of 15 games at the World Cup.
Ghana's campaign ended in disgrace, too, with Sulley Muntari and Kevin-Prince Boateng thrown out of the squad on the morning of the match against Portugal for disciplinary reasons.
A 2-1 loss in that game meant Ghana failed to advance to the knockout rounds for the first time in three World Cups. It wasn't long before Ghana President John Mahama also ordered an investigation, as well as replacing both the country's sports minister and his deputy.
Nigeria, which takes on France in Brasilia, and Algeria, which takes on Germany in Porto Alegre, are flying the flag not just for their own countries but for a whole continent on Monday. – Steve Douglas for Sapa-AP