It may be just about the hottest new pop-up club in the world, but you have to look hard for the glamour. There is no red carpet and the bar has run out of beer. The decor leaves a lot to be desired: a brightly painted wall, some plastic chairs and dozens of palm trees.
Welcome to Bamako, the capital of Mali, not the most obvious choice for a star-studded club launch. Mali endured a wretched year in 2012, the northern half seized by a motley alliance of Islamists and Tuareg rebels, the president ousted in a coup and the country almost breaking in half before a French-backed government offensive turned the situation around. Northern Mali still dangles precariously between war and peace and Islamist rebels still make life uncomfortable for towns that until recently they occupied.
But inside the Maison des Jeunes – a community space cum youth hostel near the banks of the River Niger – artists including Damon Albarn, Brian Eno, Idris Elba, and some of Europe and America's brightest young producers – bop their heads in unison to the live performances taking place in a kind of defiance.
"I keep coming back to Mali, through everything that's happened," said Albarn. "At times it has felt odd in Bamako, with the problems in the north, but I'm just trying to personally establish dialogue with the people in this country and the music."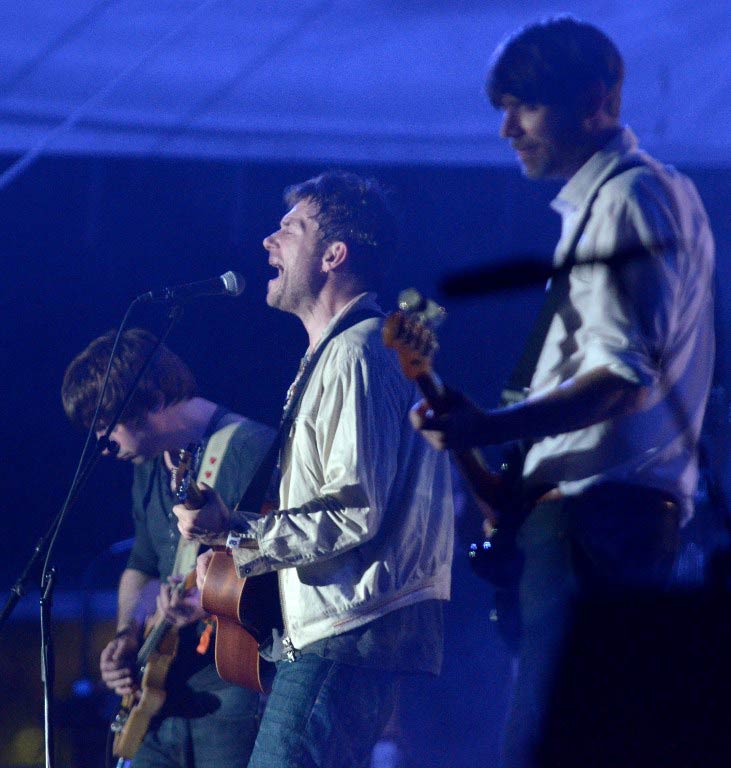 "The reason we are in Mali now is because of what's happened here in the last year," said Ian Birrell, co-founder with Albarn of the Africa Express project.
"Malian artists are so brilliant. We wanted to come back as a form of solidarity and do the tiny bit we can do to promote the music that we love and revere."
Albarn's involvement with Malian music dates back to 2000, when a trip to the west African country with Oxfam led to an infatuation with its sounds that would see him record an album with Malian musicians Afel Bocoum and Toumani Diabate. In 2006 Albarn launched Africa Express – a joyfully chaotic series of collaborations between western and African artists, which last year led to 70 musicians taking over a chartered train.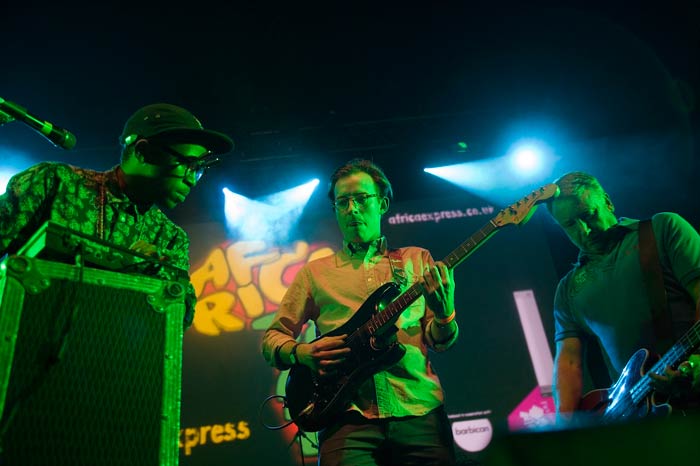 On the second floor of a building adjacent to the courtyard, in an airy studio that has seen better days – with mint-green plaster walls and tatty floor tiling – ambient music maestro Brian Eno sits immersed, working on his laptop.
Behind him Holy Other – the enigmatic, highly-rated R&B artist whose full identity remains a secret and who is only ever seen in public wearing a black shroud – is similarly occupied, and Wire star, DJ and producer Idris Elba breezes in and out. "I'm just listening. I don't know what to do other than sit there with my mouth wide open," said Eno of the music being recorded by Malian artists. "I don't feel inclined to sample and play over the top – for me it's too complete."
There is a deliberate spontaneity in the way Albarn likes to work with African artists; the word "chaos" is frequently used by everyone involved in Africa Express, usually spoken with a sense of pride at being involved in such an intense, cross-cultural musical frenzy.
The launch of live performances at the Maison des Jeunes coincides with the first attempt to produce an Africa Express album, as producers including Eno, Ghostpoet, Pauli the PSM from Gorillaz and Nick Zinner from the Yeah Yeah Yeahs work out which Malian artists to collaborate with, and set about recording and producing them in new ways.
"I have never done anything like this before," said Kankou Konyate ( 21), lead singer of Gambari, whose vocals soar out over local n'goni lute rhythms. "Since the war things have been difficult, and complicated. But this is very good."
Albarn, who has been critical of western celebrities patronising Africa in the past, says Africa Express is all about creating a level playing field and building connections, artist to artist.
But the group are also under no illusions about the state of Mali. Eno, on his first trip to sub-Saharan Africa since he visited Ghana in 1980, says he is shocked by how little progress has been made.
"I was quite surprised coming here how broken the place is," said Eno. "How the streets are terrible. The open sewers stink. It's very disheartening in a way. But what is really strong here is social infrastructure – it's so powerful and rich."
Afua Hirsch for the Guardian