http://voicesofafrica.co.za/category/general/feed/

Goodbye, and thanks for reading
Due to restructuring at the Mail & Guardian, Voices of Africa will no longer be active from September 18. We will not be updating this blog anymore, ...
•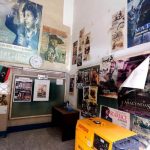 Lights out for movie houses in Libya
The Libyan capital once boasted grand movie houses that packed in smartly dressed couples for a special night out, but how times have changed. Today, the ...
•